Sheza Goody Two Shoes
– 15h Grey Paint
Produces outstanding performance foals with lots of muscle and quiet temperaments.
Dam to MV Ben's Platinum Scotch, MV Ben's Skip The Scotch, MV Ben's AllAboutTheScotch, MV High On The Scotch & MV High On The Scotch
In foal to MV Ben's Southern Gent for a 2023 foal
Joker's Spanish Angel
– 15h Solid Palomino Appaloosa
Dam to many, many top quality 'Colonel' mules. She's a fabulous mare in every possible way; confirmation, temperament and color.
Dam to: Colonel's Sagebrush Sandi, Colonel's Little Whiskey Girl, Colonel's Golden Preacher, Colonel's Golden Trigger,Colonel's Cowboy Casanova, Colonel's Gorgeous Girl, MV Colonel's Angel Dust & MV Colonel's Spanish Affair.
Confirmed in foal to Colonel's High Definition for a 2023 foal
Elegant Petunia
– 15.1hBlack Paint
Pretty headed, smart and extremely athletic. Rescued from the kill pen, along with her 3 month old colt, in late 2015.
This mare produces both pretty and ATHLETIC!
Dam to: MV Ben's Elegant Lover, Luna and MV Impressive Definition & MV Ben's Impressive SuzyQ
Confirmed in foal to Horseshoe Hill Bendito for a 2023 foal
Colonels Roan Lady
– 14.3h Bay Roan QH
Cutting royalty and she exemplifies it completely! Granddaughter to the great Colonel Freckles.
Pretty, athletic, smart. This girl has it all!
Dam to: 'Pearl'
CottenCallieRose DLW
15.2h 2012 Buckskin QH
Callie joined us fall of 2018. She carries lines that have proven them self in our program in the past.
Confirmed in foal to Colonel's High Definition for a 2023 foal.
Mito Been Invited
- 15.3h 2011 Cremello QH
This mare is a TANK! Her horse foals are killing it in the pleasure pen, and we cannot wait to see the mules she produces!
With her color, build, movement, size and temperament they can't be anything BUT outstanding!
(photo coming soon)
Raggidontheedgesgirl (now deceased)
– 15.3h Buckskin QH
Our "MVM" (most valuable mare). Not only does she produce color, confirmation and smarts, she is an incredible mom. She's great with her own foals, and three times she has taken on orphaned foals, essentially raising twins!
Dam to: MV Ben's Fashionably Late & MV Girl's Got Definition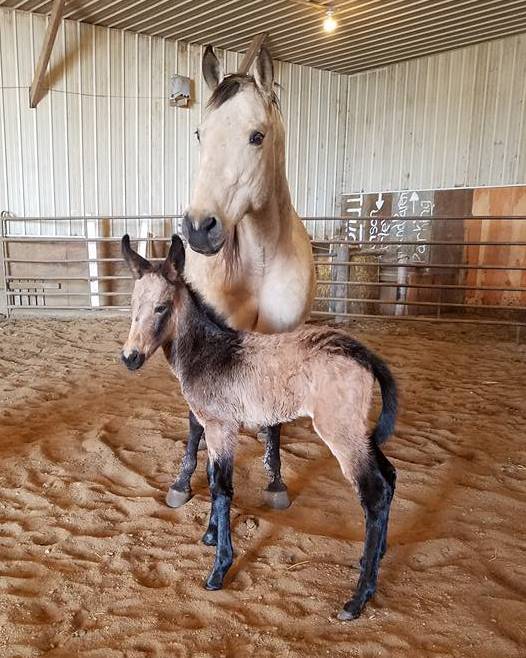 "Chance" with her 2017 molly by Colonel's High Definition.