We offer a select number of our donkeys and mules for sale.
See the Our Jacks, Our Mares and Our Jennys pages for parent details.
Foals may beavailable for sale in-utero. Please email us for details.
Born1/30/2018
Black jack donkey
by MV Bendito Legato x MV Ben's American Girl
should mature to around 56"
(pictured a few hours after birth)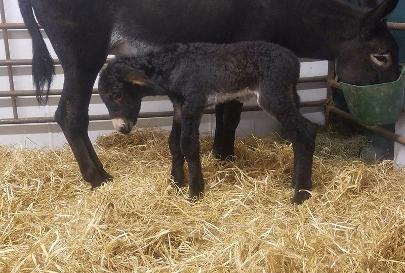 Due April 2018
donkey foal by Horseshoe Hill Bendito x Ariel– 15.2h Black
Due April 2018
mule foal by Horseshoe Hill Bendito x Sheza Goody Two Shoes– 15h Grey APHA
Due April 2018
mule foal by Horseshoe Hill Colonel x Elegant Petunia– 15.1h Black APHA